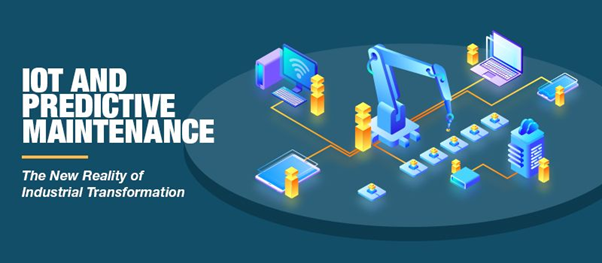 Your business probably uses preventative maintenance to reduce equipment breakdowns, but by implementing Internet of Things (IoT) predictive maintenance like 25 percent of businesses, you could save money, time, and improve equipment operations, which also improves worker safety.
Predictive maintenance uses proactive methods, rather than reactive methods, to ensure proper equipment operations. Without a preventative maintenance schedule, a company uses reactive maintenance, meaning that it makes repairs to a machine when it breaks. Preventative maintenance replaces parts that wear down easily on a standardized schedule. But predictive maintenance goes a step beyond that to determine when specific machines will require maintenance using a combination of big data, artificial intelligence, and machine learning in conjunction with the IoT.
What Is Predictive Maintenance?
How does predictive maintenance do that? Companies using this 21st-century method, install IoT sensors in their equipment that feed information back to the maintenance staff and to databases that collect machine information. The sensors work with the monitoring software to track each piece of equipment's status and real-time performance.
Collecting company-wide data build a big data set, which the firm then uses in IoT predictive analytics to determine when a piece of equipment will require maintenance. Through constant monitoring via IoT sensors, the monitoring software leverages machine learning to build models of how each machine functions best and when it would require maintenance by including manufacturing information.
Benefits of Predictive Maintenance
A lengthy list of predictive maintenance benefits exists. This convergence of artificial intelligence technologies and the Internet reduce maintenance costs by preventing equipment breakdowns. Rather than conducting maintenance on an arbitrary schedule set by a manufacturer, IoT predictive maintenance transforms the maintenance schedule to one that works with the business's own production schedule. The results of predictive maintenance benefit each business by saving time and money over preventative maintenance. Rather than using a regular maintenance schedule to stave off breakdowns it uses machine-specific needs based on real-time and collected data.
Predictive Maintenance Use Cases
Although only one-quarter of businesses have implemented predictive maintenance, plenty of predictive maintenance test cases abound. Let's look at a few of the firms helping businesses implement this useful maintenance methodology and the businesses that implement it.
IBM and Kone
The elevator company Kone handles maintenance for its elevators installed across the USA. IBM worked with Kone to install its Predictive Maintenance and Quality (PMQ) solution with IoT sensors. PMQ leverages the IBM Watson cognitive intelligence engine to create a health score output. The predictive maintenance solution led to Kone's launch of its 24/7 Connected Services.
SAP and Siemens
Industrial automation giant Siemens created its own IoT solution, and it uses software from SAP with analytics from Azima DLI. Siemens uses SAP's Leonardo IoT Portfolio and its own supervised machine learning algorithms to become the hero of many businesses and government organizations. For example, Siemens worked with NASA to install an predictive maintenance program at the NASA Armstrong Flight Center to monitor its cooling systems. In Germany, it worked with Deutsche Bahn in October 2016 to install a pilot program lasting 12 months to monitor its Series 407 ICE 3 fleet of trains.
GE and British Petrol (BP)
GE developed two predictive maintenance products that work hand-in-hand – GE Measurements for condition monitoring hardware and GE Digital for software and analytics. The two components form the Predix platform, the foundation of its Asset Performance Management (APM). BP implemented APM throughout its oil and gas production operations, both onshore and offshore.
In Conclusion: Getting Started with Predictive Maintenance
Your company can join the ranks of BP, NASA, Deutsche Bahn, and Kone without being a corporate giant or major governmental organization. Start small and implement bit by bit for the best success. Let's consider the four-step process for implementing a predictive maintenance program.
Design your business's predictive upkeep program. Start by prioritizing assets. Choose a critical asset that will provide a high-value use case as your first implementation. Pitch to upper management and gain their buy-in. Showing specific benefits and how they can help your company reach its goals can help you land the support of higher-ups. Provide concrete examples of how the equipment you've identified as the ideal use case has failed in the past and how it impaired business function.
Install the needed IoT sensors and other devices. Equip your machines with sensors and install monitoring software that connects the IoT sensors to a reliable platform, such as those developed by IBM, Microsoft, PTC Thingworx, SAP, or Siemens.
Perform the system integration with the test case equipment. Go live with IoT tools that link condition monitoring to repair or maintenance actions and activities. Establish the reporting and alert mechanisms that inform maintenance crews when they need to conduct repairs. This step also includes setting up your analytics.
Set the maintenance schedules. Rather than dates on a calendar, the new system relies on benchmarks. When a sensor detects that a specific part has degraded to a certain point, it gets replaced regardless of the date.
By implementing a predictive instead of reactive maintenance system, small businesses and corporations can save time and money. Increase efficiency by stemming equipment breakdowns.