You no longer need to spend a fortune or have animation skills to create promotional videos and ads for your own brand. Thanks to technological advancement, anyone can create show-stopping animated videos. What is more? You can create them for free!
Today, there are dozens of animation creators available for making animation videos. This post looks at the ten best animation makers for making promotional videos and ads without any skills or experience.
1.    Doratoon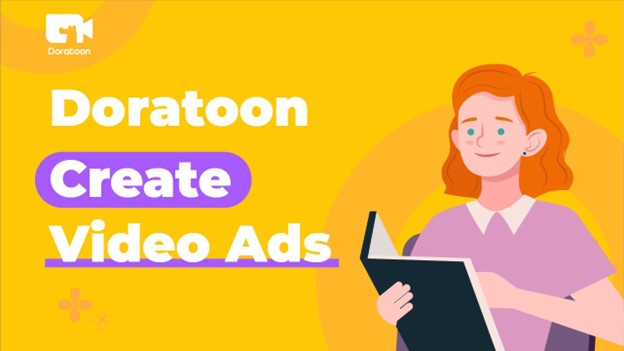 First on our list is the feature-rich animation maker – Doratoon. It is not your average video maker. When you talk about intuitive editing tools and features, it delivers with a bang.
With this tool, you can create awesome 2D animation and 3D videos for your business promotions. With millions of royalty-free animation templates, props, backgrounds, stock footage, music, and sound effects, you can create anything you want with the tool.
How to make Promotional Videos and Ads with Doratoon
Step One: Visit the official Doratoon website and create an account for free.
Step Two: Choose an animated template from the thousands of options available.
Step Three: Use the intuitive editing tool to customize your chosen templates to suit your video concept.
Step Four: Preview the video and download it before sharing it on your preferred channels.
These are the simple steps to create video ads with Doratoon. As mentioned, you do not need any skills or experience in animation creation.
What are the Unique Features of Doratoon?
A large library of animated templates
100M+ stock images and videos
10000+ stock props
10000+ 2D and 3D background images
1000+ animated characters with facial expressions
AI Drawing and AI Dubbing
2.    RenderForest
This is another online animation creator offering all the necessary tools for creating fun animation, promotional content, and more. RenderForest lets you create fun 2D animation, CG realistic videos, and 3D animation. It offers a wealth of icon resources you can explore. Some of its features include:
Over 200 video templates
A rich explainer video toolkit for small businesses
Cloud-based tools enable users to modify texts, adjust scenes, and design exceptional animated videos.
3.    Animaker
When you want to make an animation video with rich resources, Animaker is a top tool to consider. It offers several animation styles and is super easy to use.
The platform offers six video styles and you can make completely customized video ads and promotional videos for your business. Animaker is one of the easiest online video makers to create animated content. Its features include:
Different video styles, including whiteboard animation, 2D, 2.5D, infographics, handcraft, and typography.
Decent editing tools for creating professional-looking promotional video ads.
4.    Moovly
Moovly offers four animation video solutions for large enterprises, small businesses, and the educational sector, among others. It offers intuitive drag-and-drop editing tools to make creating animation videos easy and seamless. You can share your promotional videos directly to YouTube from Moovly. Its features include:
Over 100 million digital assets from Shutterstock, including video clips, pictures, music, and sound effects.
Built-in toolkit to customize content.
5.    Biteable
This is a fun, fast, and easy-to-use animation creator available for use online. It offers different animation styles for social media videos, explainer videos, and promotional video ads. Biteable has an easy-to-use interface and you do not need a powerful computer to create your video ads. Some of its features include:
Hundreds of live-action and animated scenes to explore.
Easy to add text, colors, photos, and sounds for video customization.
6.    MotionDen
This is an online animation maker with dozens of attractive and customizable templates. MotionDen gives you absolute control over your creation as you can customize your work by adjusting the settings. You can also add text, import your video clips, and change the music and sound effects. Its features include:
Dozens of animated templates
A large library of design assets.
7.    Animatron
When you need an online video maker to help you create whiteboard-style animation, explainer videos, HTML5 banners, and other promotional video ads, Animatron is a spectacular tool to use. The software offers exceptional editing tools with several features to make your promotional videos look professional. It is easy to use and its features include:
Over 500,000 royalty-free photos, video clips, and music files
Whiteboard animation and explainer video style.
Easy to create animated banner ads
8.    PowToon
PowToon helps you create professional-looking animated content and videos to showcase your brand to your customers. It is a cloud-based animation maker and is great at creating presentations online. It is integrated with top apps and sites online, making it easy to upload your promotional videos across platforms. Some of its unique features are:
A vast collection of design elements and media files
Customizable templates and graphics
9.    Toonator
While you may not find many advanced features with Toonator, you will find everything you need to create an effective promotional video. The tool lets you create animated videos, edit graphics, and make some show-stopping video ads.
It is compatible with PCs and tablets, which means you can create your promotional ads on the go. Some features you get when you use Toonator include:
A large library of cartoon clips created by other users
Easy to make your animated videos, edit templates, or enhance those already created by other users.
10.  Vyond
This is another exceptional tool for creating professional-looking animated videos to attract and engage your customers. Vyond is available for use for free and it comes packed with loads of features. It is a great tool for making video ads, training videos, sales videos, video presentations, and whiteboard animations. Its features include:
Large library of royalty-free video clips and images
Big collection of editable templates

Create Promotional Videos and Ads with Doratoon
Making promotional videos and ads does not have to be a tedious or expensive project. You can make an animation video ad in minutes with the right tool. We looked at the ten best animation makers you can use to create video ads.
If we have to recommend a single tool, we will recommend the Doratoon animation creator because of its numerous features and millions of design assets.