There is a newest trend in the restaurant industry is table ordering system and it's all the rage. It is convenient and simple, lets customers drive their own experience and streamlines restaurant operations. But if you are new to the trend here are a few questions that are probably on your mind.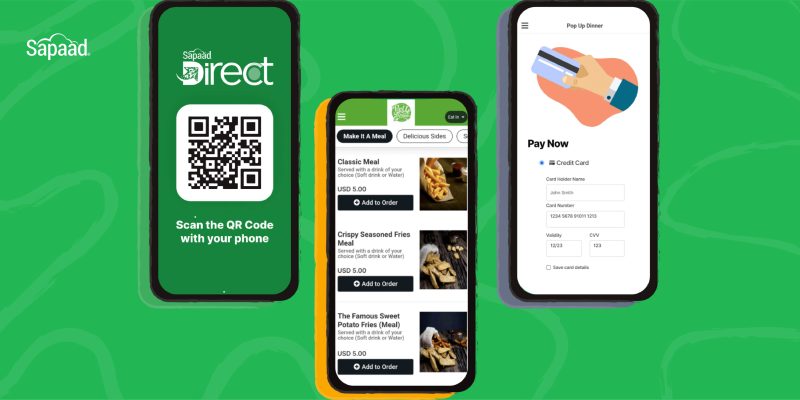 Is this trend a fad or the future of ordering?
Should you consider offering table ordering technology?
What are the benefits of this system?
This post will answer all these questions. It will also serve as a guide in understanding table ordering systems that are quickly becoming the new face of table service.
First things first, what is a table ordering system?
In the post pandemic world, table ordering systems offer contactless service to customers.
It is paperless and efficient.
It allows customers to browse through the menu, place the order and pay the bill (using google pay or apple pay) all by themselves.
A technology with no room for human error.
Always provides a wow customer experience.
What is QR Code table ordering?
QR codes are the genesis of table ordering systems. You begin with placing QR codes at every table and customers can scan these unique QR codes with their phones to access the restaurant's digital menu. Your digital menu is usually linked with your backend and integrated with POS to ensure it offers only dishes available that day.
Customers can further request add-ons, make changes in order, and order drinks all from the menu. The app also allows them to make their own payments, split the bills, all at their convenience. The future of ordering is here, and it is exciting!
The restaurant experience now is contactless, safe and hassle free. This means saying goodbye to menus, bills, and waiting for servers. A quick QR scan and customers are good to go.
Now that we have covered the basics, let's move on to other benefits of the table ordering system.
Increase in average order value (AOV)
One of the easiest ways to get your average order value up is providing a convenient and hassle-free experience to customers. What do we mean? Let's take an example to understand this.
Without table ordering system
A customer wants to place an order mid meal, but the restaurant is busy, and your server's attention is divided. The customer has to wait for the server to respond to continue ordering.
With table ordering system
Your customer has the menu at their fingertips. They order whenever they want from the app. Studies show that when compared to in person ordering, table ordering system increased spend by 5%.
Improved customer experience
One thing that stands out to customers during a dining experience is convenience. Customers want to order fast and enjoy their meal peacefully. Table ordering system offers just that. The digital communication gives control to the customers bringing convenience to the table service game. They can order what they want when they want it. What's more is having your customers happy and taking care of your staff can focus on the front house, bussing tables, delivery orders and offering better service and experience.
The mobile tableside ordering gives customers control to drive their own dining experience
What do customers really care about?
Fast response, accurate orders, and good food at a good price.
By empowering guests to control their experience, restaurant businesses today are improving their service.
Table ordering systems offer customers the same mobile experience that ordering in gives along with the excitement of dining out. The venue and ambience are still glamorous, only now ordering is simple and easy. This smart technology is enhancing customer experience and streamlining order processing and payment processes. Customers have total control over orders and have zero waiting time to place an order. Tableside ordering systems are reimagining the restaurant experience.
Have the edge in hospitality
But it's not just about having the tech – it's important for restaurants to customize their digital experience. Customers prefer branded experiences that bring a restaurant's personality to life. Research shows that personalized features and branded messaging is the key to boosting profits.
The future is automated, digital, and easy and hospitality is no exception. Table ordering systems are accurate, consistent, convenient and offer better service. What does this all add up to? Higher profits. Therefore, leaders from the restaurant industry are investing in integrated technology and automating ordering systems.
Accurate, quick, and Efficient – the answer to all restaurant and customers' needs
Table ordering systems are flexible, quick and efficient. They provide customers the option of driving their own experience. They have no room for error and consistently perform the same.
Restaurants are also struggling with a lack of talent and this QR code powered ordering system bridges this supply demand gap. It automates a lot of tasks and digitizes workflow letting you use the employees you have for front house operations.
Collects and provides customer data from your integrated POS
You have a table ordering system and now you need software to collect and use the data the ordering systems have to offer. How do you do this? By integrating POS to your tableside service. The technologies when working in collaboration help you get data on customer preferences. This additionally helps you understand which dishes work, and which don't. You can then understand what items you need to discontinue.
You can also understand how to customize the menu better for your target audience. You can then retain current customers and attract new ones. Data is knowledge and knowledge is power, and a POS integrated table ordering system is the path to sustainable growth and progress.
Easy customize and update menu
Restaurants can effectively market specific items through table ordering apps and digital signage at the click of a button. Effective and efficient POS systems help improve communication between management, staff, and customers.
Digital menus display real time information of restaurant specials, prices, and most importantly what dishes are sold out. You don't want to offer a certain dish on the menu and not have it available. This quick menu update helps you customize your menu during service.
While chalkboards and cardboard menus have their charm, a QR code linked app reflects all inventory changes instantly and offers a seamless customer experience.
In conclusion
Table ordering systems are the future of the restaurant industry. The technology when integrated with POS systems offers you customer and sales data, order accuracy, efficient service, and a wow customer experience. It helps you tackle the lack of good talent and brands your restaurants experience to be as delectable as your dishes!
If you had to choose, would you still go with traditional cardboard menus? Or have digital menus won your heart and appetite? Tell us in the comments below.
Sabah Batul bio:
Name: Sabah Batul
Bio: Sabah Batul is a young professional with a background in Journalism and Literature. She is currently working in the Marketing and Communications domain.