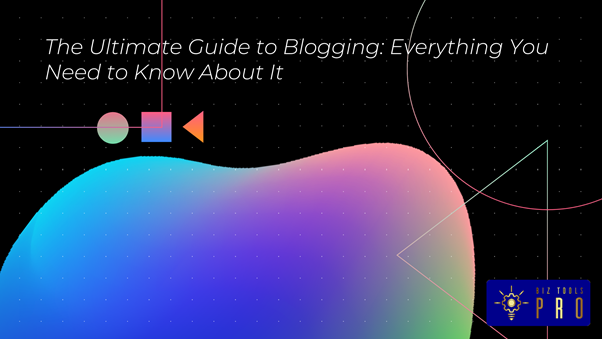 The number of blogs has grown steadily, around 12%, since 2015. That's why more and more people jump on the bandwagon, as we are seeing the dawning of the blogging era. In fact, we ARE in the blogging era, where everyone wishes they had one of their own.
Because out of 1.7 billion active websites, 500 million are blogs. This should tell you how many people, niches, industries, businesses, and marketers are busy writing good content as we speak. So, where do you get started to be counted among them?
Moreover, is it even possible for a new blog to make any impact whatsoever in 2022? As the old saying goes, "where there is a will, there is a way," you surely can start a blog today and make an impact.
However, you do need to tend to a few things before you garner any stream of audiences. So, let's find out all you need to know about blogging in 2022:
3 Reasons To Blog
The primary reason to blog today is for marketing purposes. However, many writers use it as a means to generate a side-hustle and passive income.
But, if you're new to all this and are looking for more long-term benefits of blogging, then here are three of them:
·       Become A Better Writer
Blogging can make you a better writer; there's no question about it. Because writing a good blog requires you to conduct thorough research and write good content, it needs you to write for an audience.
When you factor in all these elements, you write stellar content day in and day out. Moreover, much like many other things in life, writing is about consistency too. Therefore, the consistency that blogging requires can make you a better writer.
·       Generate Online Visibility
For a brand or a business, the best benefit of blogging is the way it can help them generate online prowess. In other words, the many ways it can generate online visibility, including SEO.
Therefore, if a brand or business is looking for reasons to blog, then this one is it.
·       Inspire & Aspire
The nature of blogging is to provide content that helps people in many ways. Whether it's opinion pieces, news, reviews, or problem-solving tutorials, blogs inspire and inspire people.
Therefore, this benefit equally puts all sorts of writers, businesses, and marketers at a great advantage.
Blogging For Visibility
Blogging for visibility is one of the best bets for marketers today. However, online visibility is also a remarkable factor for influencers. That's why one of the primary goals of blogging today is visibility.
Moreover, websites with blogs tend to have 434% more indexed pages compared to websites without them. This factor should tell you how important blogging is to SEO. Why is that? Here are a few reasons:
Blogs are effective at answering questions
Blog posts' tone is ideal for educational material
Blogs are ideal in generating awareness
These three main reasons can help anyone generate traffic, based on how important blogging is in SEO and online visibility.
Role Of Blogging In Marketing
The role of blogging in marketing today is undeniable, and here are four reasons why it's important:
·       Audience Engagement
Blogging regularly will keep your audience coming back for more. That's why blogs are an essential factor in audience engagement online.
·       SEO Prowess
As mentioned before, blogs' primary role is that they can help a brand or business stand out in SERP (search engine results page).
·       Portrayal Of Expertise
Writing good blogs in particular niches requires the writer to be well-versed in specific topics. This portrays their expertise and generates undeniable credibility.
·       Drive Organic Traffic
By using proper keywords and other key SEO elements, a blogger can generate organic traffic from all over the internet.
3 Essentials Of Starting A New Blog
Starting up a new blog can be a tricky thing to chase. Because it requires the writer to tend to three major elements, including:
1.    Pick A Niche
A niche is perhaps the most important element you need to decide before getting started. Sticking to a popular niche and creating content for its audience can help you build credibility. Moreover, if you happen to have some expertise, you can portray that expertise to your benefit.
2.    Find A Good Template(s)
While this element falls more into the development side of things, it's not any less important. You need to pick a template or a background for your blog that makes the text easy to read.
Moreover, you also need to remember that your blog is going to be your brand. Therefore, picking the right color and background should be one of your priorities.
3.    Ensure Website Performance
Your blog will have visitors from mobile phones and desktops when it starts gaining attraction. That's why mobile phone compatibility and page-loading speeds should be top-notch. While these are the more technical side of things, you need to tend to them if you wish your blog to be successful.
7 Essentials Of Writing A Good Blog Post Every Time
Now that you've hypothetically set up your blog and know all about what makes a good website technically, it's time to talk about writing blog posts. Writing good content for blogs is a bare necessity of a successful blog.
That's why it's imperative to learn how to formulate blog posts and, most importantly, where to get started. From searching for a topic to using the right keywords, writing blog content is a process of many phases.
We've divided the process into seven essential phases to make it easier for you. Therefore, without further ado, let's get started and learn how to write good blog posts:
1.    Find Or Make Original Topics
A good topic for your blog post is one of the most important elements of it. Why is that? Because 36% of SEO experts believe headline is the most important SEO factor in blogging. That's why it's important to pick or come up with original topics.
Find out the common topics within your niche, then understand the factors that can help you make original ones. The best way to go about it is by learning the trends then doing something unique.
2.    Research Properly
Content's originality and informative value will depend a lot on how well you understand it. That's why it's a necessity that you research and understand your topics before you put pen on paper. How will you do that?
Take keynotes
Save the sources you are going to use
Highlight the parts you wish to quote/paraphrase
This way, you will be using the bulk of information required to create unique blog content.
3.    Use The Right Keywords
Finding and using the right keywords is a necessity in writing successful blogs. That's why you need to research the keywords you're going to use, and for that, you need to use a tool like Answer The Public.
It can help you find the right keywords for your content and also help you find the topics that you can headline for your blog. Since the tool generates questions regarding particular keywords, you can also use those questions as your headline/title.
4.    Check For Plagiarism
When you're done writing your content and adjusted keyword, you must find out whether your content has any plagiarism in it. If it does, then you need to remove it. So, how do you find it out first? By using a plagiarism detector.
As demonstrated by the tool, it can efficiently detect any sort of plagiarism. Therefore, it's imperative that you use this tool to detect and then remove plagiarism subsequently.
5.    Paraphrase When Needed
Paraphrasing is yet another necessity of blog writing. As mentioned before, if you study your sources well enough, it can help you paraphrase properly. That's why it's important to understand when and how to use a paraphrasing tool.
So, if we wish to use a sentence from another blog, then a paraphrasing tool like this can help us. We can change the content just enough to use it as a quote or a direct citation by rewriting the content efficiently.
6.    Write Readable Content
Content's readability and quality are going to be the two major factors in your blog's success. Remember that you're writing for a common audience, so the reading levels need to be optimal.
So, you need to ensure better readability by keeping your sentences modest, paragraphs around 3-4 lines, and keyword density around 2-3%.
7.    Optimize With Meta Data
Optimization for SEO requires you to add metadata to your blog. So, what exactly is metadata? It includes:
Meta titles & headlines
Meta descriptions & summaries
Slug or URL with keywords
Alt title for images & videos
Try to add these to your blogs before you post them so that search engine crawlers can find your blogs more efficiently.
Conclusion
There you have it, your ultimate guide to blogging and blog writing. If you wish to be a successful blogger, then understand each aspect separately and focus on being successful.