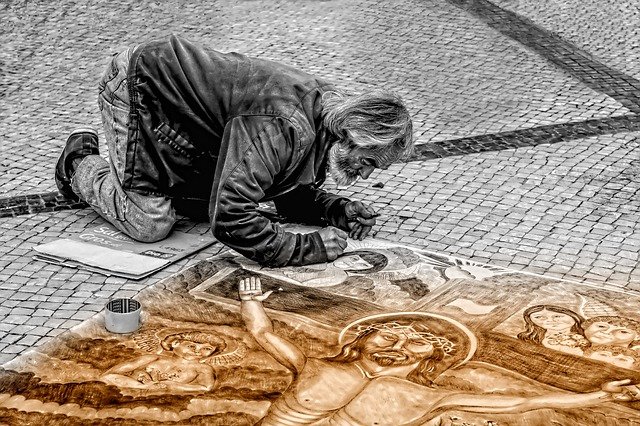 There are plenty of innovative ways an artist can make passive income. There are even more ways that involve a lot of hard work. This top ten list combines a bit of both.
BizToolsPro is reader-supported. When you buy through links on our site, we may earn an affiliate commission.
To learn complete strategies for generating passive income online, check out my passive income book.
Let's say you are an artist. Let's take painting pictures as an example. Look for things to combine that skill with where you can make a decent living at the same time.
To use painting as an example, the path of creating your own original art and selling it is of course possible. However, it is likely to be a long and difficult journey. Only a small percentage of artists are ever able to make a decent living at it, let alone any passive income.
Consider instead connecting your artistic skills with other ideas. Specializing in something specific increases your odds of finding a way to generate passive income.
For painters, a brainstorming session could result in a list of potential business opportunities that looks something like this:
1. Become an artist that specializes in painting for a particular niche market that interests you. Specialization can come from combining ideas in unique ways. For example, you could specialize in painting wedding or family portraits, or creative designs found on goalie masks in ice hockey, or paintings tourists to your city would enjoy.
When my wife and I were in Rome we bought a beautiful painting of the Spanish Steps from a local artist. Her paintings were so popular we actually had to stand in line on the street to wait our turn as she was selling to other tourists in front of us. Another example could be specializing in painting replicas of the masters like Michelangelo, as some painters do, and sell the paintings online.
2. Create video courses teaching other would-be artists how to paint. This approach can generate passive income for years after you create the video course.
3. Curate your own blog that features the art of some of your favorite artists. You could have one category on your blog for each your favorites (e.g. Michelangelo, Da Vinci, or some more modern artists that you like). Provide your own commentary around each of the paintings. You could benefit from free search engine traffic from the many people that are interested in these artists. Placing ads on the site is super easy with Google Adsense.
You can also sell your own original artwork from your blog that is inspired by some of your favorite artists. You can also promote your other products from there, like videos you create teaching others how to paint. A blog is the quintessential way to make passive income online, and it can work very well for artists.
4. Create an e-commerce website that helps artists that know nothing about marketing sell their work online. You would get a percentage of every painting sold while at the same time creating a marketplace to sell your own paintings. (The other artists and their supporters would send people to your e-commerce site to sell their paintings, thereby creating a viable marketplace). This would require a lot of up front work, but would generate passive income down the road.
5. Become an expert in how to promote art through a variety of channels, and offer coaching services to help other artists make a living from their art.
6. Get a job as a graphic designer, an animation company, a computer game manufacturer, an advertising agency, or any business that requires original artwork. Yes, this one may require expanding your skills to include computer generated art rather than just painting by hand. For some artists this could be a reasonable progression for their artistic skill set.
7. Passive income for designers – use your artistic talent to start your own graphic design business. Again, this one requires a lot of hard work to get started, and would generate passive income down the road.
8. Write original articles about art and painting. Get some of your articles published on popular art blogs or other large web sites as a guest poster. Your guest posts could contain links back to your own blog, if you have created one already (which is always a good idea). This may lead to work as an art critic for a major publication, or as an instructor at a local college. It is a way to build your own personal brand, which can lead to opportunities you couldn't have imagined before you began.
9. Write a book aimed at artists and self-publish it on the Amazon Kindle Direct Publishing platform (KDP) and/or other similar platforms like Smashwords. The book could be about anything from how to paint to detailed strategies on how make a living from painting. It could be an autobiography of your own personal journey as an artist.
It could even be a biography of another famous artist. I remember reading "The Agony and the Ecstasy" about Michelangelo while on a train traveling through Thailand. It was so good I couldn't put it down for the entire journey. These are books you could create based on research materials freely available on the Internet. This is another classic way to earn passive income, after the initial effort of writing the book in the first place.
10. Create your own audience driven business. Start an email newsletter that offers tremendous value to subscribers for free, and promote it via your own blog. It could, as one example, target wedding planners if you are specializing in wedding portraits. It could target other artists if you want to specialize in how to make a living from art. Any combination of ideas you can dream up could be the basis for an email newsletter that would help get your name out there into a specific community where your prospective customers or patrons are likely to be.
An established email newsletter can generate a lot of passive income. You can setup an autoresponder series that all subscribers receive after signing up for your newsletter. This is a completely hands off approach to generating passive income, after you have it all setup.
Later on, sending a single email to a large list of newsletter subscribers recommending a particular product could generate a nice short term spike in your income. With affiliate marketing, you don't have to create the product yourself. You can promote other people's products and earn a commission. Download the free e-Book below to learn more about affiliate marketing.
And please add your comments below, especially if you have more ideas related to passive income for artists!

More Resources
13 Ways to Make Money as an Artist in – Real Examples
13 active and passive income ideas for making money as an artist from selling art online to applying for grants and writing an art blog.
60+ Passive Income Ideas for Creatives and Artists – Blog
60 Ideas to generate passive income from your art, creativity and knowledge. Artists and creatives this is the best way to get freedom and do what you love!
30 Best Passive Income Ideas for Artists & Creatives
A list of 30 of the best passive income ideas for artists and creatives to create continual income and gain financial freedom.
Passive and Active Income In Artist's Revenue Generation | Mika Karhumaa
An article on what you need to know about passive income in the artist's revenue generation from the author of The Essence of the Music Business books.
Artists Making Passive Income: Meet Tracie Andrews | Passive income, Selling art online, Digital business
Are you an artist who wants to make money selling their art? Check out this interview, Artists Making Passive Income to see how this artist does just that.
The Ugly Truth About Passive Income And Being a Content Creator ~ The Art of Fantasio
Are you a content creator? Do you get paid what you are worth? Find the truth in this article…
Passive Income: How I Made $100,000 in ONE WEEK
Are you an artist or some form of creative? Want to make more money off of your passion? Here's some key steps to making more money today!
5 Ways to Make Passive Income as an Artist – Arvabelle
Arvabelle is an online resource for the modern, creative career-woman.
theunlimitedcreative.com | Passive income, Art business, Artist
theunlimitedcreative.com is your first and best source for all of the information you're looking for. From general topics to more of what you would expect to find here, theunlimitedcreative.com has it all. We hope you find what you are searching for!
Passive Income for Artists | Ika's Way
Branching out in your art business selling originals and prints can be a very smart move. It's all about diversifying your income…
Business ideas for artists: Using multiple income streams to grow
Build a successful art business using multiple income streams, passive income and solid promotional strategies you can build over time | Do what you love
Passive Income Canvas Prints | Fine Art America
Buy passive income canvas prints designed by millions of independent artists from all over the world. Our passive income canvas art is stretched on 1.5 inch thick stretcher bars and may be customized with your choice of black, white, or mirrored sides. All passive income canvas prints ship within 48 hours, include a 30-day money-back guarantee, and arrive ready-to-hang with pre-attached hanging wire, mounting hooks, and nails.
How to Make a Living Selling Your Artwork Online with Cory Huff
Can artists like painters, musicians, and actors make a living online selling their artwork? Yes! Even if you're not famous. Here's how you can do it.
Pin on Passive Income Ideas
It's amazing how many opportunities there are for artists to make money these days! These 30+ places for artists to make passive income online helps you…
Sell art on Displate | Building your career as Digital Nomad | Passive Income
Design your art and sell them on metal posters by Displate. Start earning money from passive income and become a Digital Nomad. Watch this lesson to find out: H. ..
How to make money as an artist online with video | Vimeo
Discover how artists can use video to launch their brand, leverage tools and solutions to make money, and master the art of creating an OTT channel.
Six Ways Artists Can Create Passive Income | Artwork Archive
Diversify your income streams to make more money with less effort using these methods.
The Abundant Artist – Do you have any passive income coming in right now?
Do you have any passive income coming in right now? What does that look like for you?
Ep 147 – Passive Income for Artists and Designers | Travel Like a Boss on Acast
Do you want to learn how make a passive income as an artist? Location-independent designer and illustrator Cat Coquillette shares how she grew her passion for art and travel into a successful business. In this episode, Cat talks about where to advertise your artwork and ways to start and grow your business. She also talks about how royalties, licensing, and non-exclusive agreements are crucial to your success. Listen to the end, for future travel plans and daily routine.
The Passive Income Mistake – drawing money – FI
Every artist knows the passive income struggle. We can't have hobbies because they inevitably become our passions and our passions become our businesses.
36+ Passive Income Ideas for Artists | Passive income, Digital business, Artist business
If you want to make money selling your art, check out these 36+ Passive Income Ideas for Artists. Most are online and can be done from the comfort of home.
theunlimitedcreative.com | Passive income, Art business, Artist
theunlimitedcreative.com is your first and best source for all of the information you're looking for. From general topics to more of what you would expect to find here, theunlimitedcreative.com has it all. We hope you find what you are searching for!
11 Creative Ways to Make Passive Income as an Artist
Get 11 passive income ideas for artists and creatives. Make money with art skills & creative passive income streams, even as a beginner artist entreprenuer.
ArtStation – Passive Income for 3D Artists: Making Money Online Selling Your 3d Models by JL Mussi
Hello, I wanted to share my experience making money online selling my 3d models. In this video, I go in depth how I was able to create passive income selling my 3D Models online. Â I explain the principles of passive income, multiple streams of income
4 Easy Passive Income Ideas for Artists –
Here are a few great ways for artists to make long term additional passive income without too much additional effort! The…
15 Ways for Artists To Make Money Remotely During Covid-19 Lockdown | Martha May Ronson
Here are some ways you can make money remotely while still being creative
How I Earn Passive Income as an Artist CatCoq
I recently had the opportunity to partner up with Society6 and Skillshare to teach my own class. The topic: How artists can boost their passive income. The online class is packed with information for artists and designers looking to broaden their revenue streams. I thought it would be helpful to include a summary of the basics. Enjoy!
The Mastery of Selling Art. Earn passive income by selling art | by Krishnanunny H | The Startup | Feb, | Medium
If you are an artist or makes arts as a hobby, this article could guide you on creating passive income by selling your artwork. We are going to cover the following topic : You might think setting up…
36+ Passive Income Ideas for Artists – Art Sales on Autopilot
If you want to make money selling your art, check out these 36+ Passive Income Ideas for Artists. Most are online and can be done from the comfort of home.
How to sell art and make money on Redbubble | Passive income for artists – YouTube
If you're looking to sell art on Redbubble and create a passive income stream, the most essential thing you have to do is understanding that you have to driv…
5 Passive Income Streams for Artists (From Easy Mode to Expert!) Live Your Art Life
Imagine waking up in the morning and taking a peek over to your phone or computer, seeing that you had some cash flow your way while you were in dreamland. Cool, right?? Let me introduce to you the beauty and wonders of passive income!…
How to Make Passive Income on Etsy and Get Steady Income as an artist
In this post, I share with you how to earn an Etsy passive income without the need to spend a lot of effort all the time. It's like a dream come true.
Passive Income For Artists – 7 Ways To Add It To Your Creative Business
In this post, you'll learn seven different ways to earn passive income for artists and creators.
How to Make Passive Income as a Handmade Artist
Its hard to make a living selling handmade items. Learn some strategies that will allow your business to grow – make passive income as a handmade artist.
8 Profitable Passive Income Ideas For Artists
Learn more about how to make passive income as an artist in this article. See passive income ideas for artists with access to detailed guides on our blog.
Making Money as an artist with Passive Income! – KamuiCosplay
Let me give you a few tips on how making money as an artist can work even without convention, artist alleys and physical sales!
Passive income for lettering & calligraphy artist
Make money with Calligraphy & Lettering! Passive income guide for artist to start making money while sleeping, with products, teaching and licensing.
Money talks: generating passive income as a musician | Bandvista.com
Making money as a musician isn't the easiest of tasks, but the arrival of the digital age has created a substantial number of ways for working artists t
14 Ways to Making Money With Digital Art and Digital Products
Making money with digital art and digital downloads is easy once you know how. Read our ultimate guide now & learn how to make 14 easy digital products
How to Make Money with Your Art – The Part-Time Artist
Many artists think it's impossible to make money from their art. This post talks about mindset, products, marketing and a 30-day challenge to make money!
4 New Passive Income Streams for Artists
Most artists, photographers, and visual creatives know, once your work is complete, showing and selling your masterpiece is the next step in the creative process. What happens when one payday isn't enough to satisfy us?
SuperRare Gives Digital Artists a Platform With Potential for Residual Income
News From Hip Hop To Hollywood!
How Musicians Can Achieve Passive Income – Soundfly
Now more than ever, musicians need to diversify their income and generate passive income. In this piece we talk about some ways to do that immediately.
Passive Income for the ArtistFocus Point Shape
passive art income, passive artist income, online artist income
[PDF] PASSIVE INCOME FOR CREATIVE MINDS – corgihomeplan.co.uk
passive income for creative minds truly passive income series expand any art or craft business into a hands free residual income empire through digital etsy 3d printing pod products and more book review, free download
How to Sell Digital Art and Make PASSIVE INCOME ? – PaintingTube
Passive income is a great way to make it possible to be a full-time artist or make a little side money from your digital art.
527 Create passive income Posters and Art Prints | Barewalls
Search 527 Create Passive Income Posters, Art Prints, and Canvas Wall Art. Barewalls provides art prints of over 33 Million images. Wholesale prices on frames.
Free Passive Income Art Prints and Wall Artwork | FreeArt
See 4,187 Passive Income Art Prints at FreeArt. Get Up to 10 Free Passive Income Art Prints! Gallery-Quality Passive Income Art Prints Ship Same Day.
13 actionable methods to make money as a digital artist and animator
Some beginners find it really difficult to make money as an artist. Here is a guide for – How to make money as a digital artist, designer and animater.
Passive Income Ideas for Artists Desk & Design | Business Coaching & Websites for Fine Artists
Stop trading hours for dollars with these passive income ideas for artists.
Passive Income for Artists – YouTube
Struggling to find time for your art? Passive income might be the key for your art career. I have been living from passive income for a while and I would lik…
9 Fulfilling Ways to Make Money as a 3D Artist
The 3D Artists Ultimate Guide to Making Money in a fulfilling way. Become independent from your day job and make money in 3D with passive income.
15 Ways to Make Money as an Artist
There are more ways to make money as an artist than just selling your original art. Here are 15 ways to make money as an artist. No need to be a starving artist any more! There are many ways to make money online for artists. Start earning money as an artist today.
How To Earn Passive Income For Artists
There are multiple opportunities to Earn Passive Income For Artists. Successful artists use multiple revenue strategies to supplement their income.
How Video creators can earn a passive income | Artlist
There are several ways you can earn a passive income as a video creator, from royalty-free music, stock foorage and stock photos to SFX and visual assets.
Earning Passive Income as an Artist While Travelling the World with Cat Coquillette
This location independent artist & designer making a living traveling the world and producing incredible digital art and illustrations online proves that the days of the starving artist are gone. Learn about her journey a nd get inspired to start making money from your art online.
Arts Business Institute | How Artists Can Add Multiple Streams of Income
Want to increase sales of your art and ways to earn? This article investigates multiple streams of income for artists.
Passive Income for Artists – Online Marketing for Artists –
Want to make more money without working more? Here's a list of some of the best sources of passive income for artists.
CGTalk | 3D artists Making money on the side…Tell us your ideas..
We all know that there are a ton of side markets for 3d artists to compensate their income. From Turbosquid to the Unity marketplace. So tell us what side markets you have found. And ideas to. legally, make side money. …
Turn your Photos and Illustrations into Passive Income | by Nic Kocher | Entrepreneur's Handbook
What does a Danny DiVito shower curtain, a tote bag with the word Crap Bag, and a travel mug with stylized suspicious cats have in common? They are all the bestsellers in their category on the
Arts and Crafts To Passive Income
While arts and crafts are not always a path to riches, hobbies that fall into this category are excellent opportunities for passive income.
PASSIVE INCOME for Artists – Is it worth it? my Society6 earnings & closing my Etsy Shop – YouTube
Wondering about selling your artwork or illustration online in ? for sure you thought about to generate passive income as an artist or illustrator. So in…